"this is a women's gym"
"excuse me"
"there are no men allowed"
"I'm female"
"I knew that"
Rugby starts the 31st. Thank the good lord. Also mother fucking health insurance… YES.
My hair is in this weird phase of being too long to look good/clean cut the way I like it. But not long enough for me to actually do something with it. I am going to try letting it air dry and let it be curly/not comb it just let it air dry and see what happens. 
Workout stuff is going well.  my mile time is going down when not exhausted from the cluster fuck at work. Shoulder doesn't hurt anymore, I'll see what happens when I start tacking and rucking again. 
This weekend should be good. Looking forward to it and SO ready for this week to end. 
Also starting to freak out about what I'm going to wear for my sister's wedding. My mom wants to *make* me some jewelry to wear. I appreciate the sentiment but I don't really wear jewelry. You would think after 24 years she would get it. 
Speaking of wearing things. Reebok boxer briefs are kinda of awesome. Bit the bullet and bought some at mashalls. Very happy. Hopefully no riding up. 
As I sit here drinking my hangover cure all of chocolate milk i think its time I write something on here. 
Things have been pretty excellent lately. Let me break it down.
Rugby
In our last game of the season I won bitch of the pitch. BotP is an honor, it means you worked your ass off or did something that stood out for the team. It could be a number of things. In this game I learned that it doesn't matter how big the other team looks. Also that I am filled with 'piss and vinegar' to quote my coach.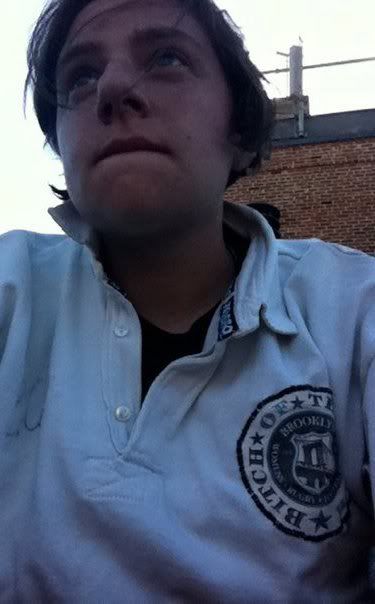 In last weeks game against New York Rugby Club's B side whose A side plays at the highest level you can play in the US. I played hook or hooker for the first time. Hook is the leader of the forwards. My goal is to be the starting hooker for Brooklyn. I have a lot of work to do. I need to get stronger and faster in the off season.  I almost scored a try as well and got some pretty awesome photos. 
Rugby over all has been excellent. I feel accepted by my team and I've been getting a lot of support from the Brooklyn mens team as well. My skills as well as my fitness are improving much faster than i really thought they would. I'm so glad that I decided to play.
Personal
So a few months I met a girl and there were some awesome things about her but overall I don't think we are super compatible. Then a week after I decided end things I met another girl. She is a bit older than me but I really like her, she is very smart, funny and only makes me feel like a big fucking nerd in the good way… mostly.
The Rugby team and people associated with rugby have become the best social circle I could ask for the camaraderie is amazing and I wouldn't trade it for anything.
As far as weight loss goes I'm down to 165 lbs from  200lbs about a year ago. From a size 42 waist to btw a 32 and 33 (in mens jeans) I think my boobs have gotten smaller as well but that is hard to quantify since I hate going bra shopping. Now that I am going to be working full time again I have to make sure to keep my fitness up and continue to go to the gym even when I'm tired. I might join a gym in the city for convenience. 
Professional
I started a new job about two weeks ago. Pros of this job are but are not limited to unlimited coffee, casual atmosphere, fixing things and helping people, very casual dress code, 30 min from my house by train, regular hours. I'll be working the early shift next week 8-4. Cons: stupid middle management, when we get slammed we get fucking slammed, lots of procedure to learn and pseudo incompetent people I have to work with.
I was waiting for the other shoe to drop and then it did.
On thursday night walking to my grandmas house I got hit by by a car, I got hit on the outside of my left leg between my shin and calf. It was raining. I slid up onto the hood and then fell to the ground. I caught myself for the most part and walked away unscathed other than tearing up my knuckles a bit. The other car didn't stop, he made sure I got up and then drove off. I didn't get the license number I was just in shock. The car took my legs right out from under me which would have been a strange feeling if not for rugby. Thank god for rugby again. I'm really thankful I'm not seriously hurt or you know dead, because that would be awful. 
I have go to start the laundry because clean clothes are important.